Manufacturer: Baumer Electric Sensor Technology

Baumer are high-quality industrial sensors. Some of Baumer's unique precision sensing and measurement products include, Photoelectric, Proximity, Ultrasonic, and Laser sensors and well as force, measurement and vision detectors. Baumer makes instruments capable of measuring or detecting your product or process. Ask our experts to show you how Baumer products can help improve your productivity and quality.
WARNING: "These products can expose you to chemicals which are known to the State of California to cause cancer. For more information go to www.P65Warnings.ca.gov. "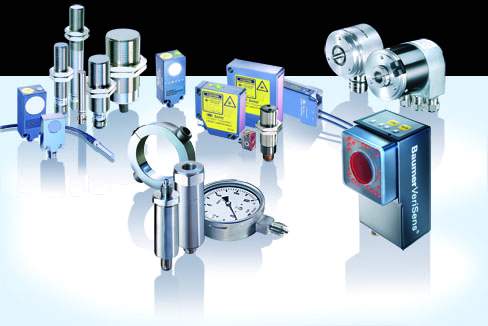 Monitoring, positioning, sort, count - that is exactly what the sensors developed by Baumer do - maintaining the highest standards of quality, accuracy and compliance. Motion, speed and acceleration - controlling and regulating drives is the domain of the Motion Group. Measure, inspect, compare - to conduct complex quality inspections, modern vision systems detect millions of pixels and analyze the produced images just like the human eye.

Baumer is a manufacturer of cold and hot melt application systems and quality monitoring systems for the printing, paper, corrugated cardboard and wood assembly industries.
Air-Oil Systems, has the local inventory and technical expertise to help you utilize Baumer's sensor solutions to reduce cost and increase the output of your automation projects, giving you a competative advantage. Put us to work for you today!
With the new generation of line sensors PosCon and ParCon from Baumer, the edges of paper webs can be controlled more accurately, positions of wires determined more exactly or the width of a plastic profile at the outlet of an extruder measured more accurately.
The new MAGRES hermetic absolute multi-turn encoders contain a hermetic encapsulation for the complete electronics. This unique encapsulation provides an insurmountable protection against fluids and allows IP 68 and 69K protection.
With EcoSpin, Baumer Electric adds yet another innovation to the family of magnetic sensors. The flexible and modular system comprising a variety of sensor types, magnet carriers and accessories provides optimal integration into any given application