Manufacturer: IAI Intelligent Actuator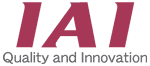 IAI is known by many as Intelligent Actuator. IAI is a manufacturer of innovative electrical linear and multi-axis robotics systems. Among their most innovative products is the Robocylinder, a robotic actuator designed to take the place of a standard air cylinder
IAI designs and manufactures, a complete line of motion control systems. As a world leader in linear actuators and low cost, high performance SCARA robots, IAI provides over half of all linear actuators sold in Japan and are a leading source of advanced plug & play automation throughout North America and the world.
With the introduction of a full range of Robo Cylinders, IAI is also leading the transition away from pneumatics to cost-effective, low-maintenance, and fully-programmable electric cylinders.
Intelligent Actuator develops easy-to-use plug-and-play robotic systems and components that are uniquely easy to deploy into an industrial environment. With dust-proof, splash-resistant and Class 10 Clean room-compliant actuators, IAI products can do most any job you require of them.
Onsite Technical Support For Robocylinders
WARNING: "These products can expose you to chemicals which are known to the State of California to cause cancer. For more information go to www.P65Warnings.ca.gov. "
CAD Files
Link to IAI CAD Files
CAD File
For faster response, enter Air-Oil Systems as your distributor of choice
[ Link ]