Manufacturer: Linmot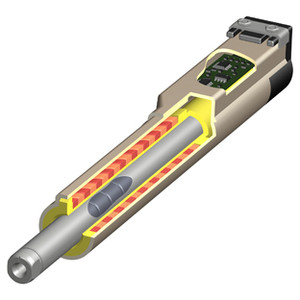 LinMot tubular linear motors employ a direct electromagnetic principle. Electromagnetic force provides direct linear movement without the use of cams, gears, belts, or other mechanical devices. The motor consists of only two parts: the slider and the stator. The slider is a precision assembly that consists of a stainless steel tube, which is filled with neodymium magnets, that has threaded attachment holes on each end. The stator, consisting of coils, the bearing for the slider, position sensors and a microprocessor board, are designed for use in harsh industrial environments
About Linmot
LinMot began manufacturing and distributing linear motors and actuators in 1997. These motors were, and still are, designed and built in company owned facilities in Switzerland to traditional, high quality Swiss standards. Every LinMot linear motor delivers high speed, long service life and complete controllability , making them your best choice for use in demanding and highly dynamic positioning applications. LinMot's U.S. headquarters in Elkhorn, WI serves the entire Western Hemisphere and offers very distinct sales oriented advantages to our customers. These important advantages include extensive stock/inventory in our Elkhorn facility, US based technical assistance and exclusive LinMot linear motor application and sales support programs.
LinMot linear motors and linear actuators are now available worldwide through more than 80 sales facilities. Thousands of LinMot products are now being used in packaging, processing, material handling, inspection and automation applications around the world. LinMot offers same day shipping with overnight delivery available on most non-custom products.
For higher speeds, longer life, and complete control of your linear motors and actuators, contact us about LinMot today.
WARNING: "These products can expose you to chemicals which are known to the State of California to cause cancer. For more information go to www.P65Warnings.ca.gov. "
Products
Files
LinMot Designer 1.5.1 Software
Software File
Linmot Sizing Software
[ Download ]
(5750kb)
Sizing Software Instructions
Software File
This powerpoint presentation will help you to use and understand the Linmot sizing software
[ Download ]
(2362kb)
Linmot Sizing Software V 1.6 June 2010
Software File
MPC Curves are no longer supported with this software
[ Download ]
(4685kb)