Fabco Multi-Power Air Press by Fabco-Air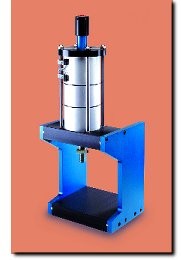 Fabco-Air applies the unique Multi-Power® Principle to a precision framework and base, providing you with the ultimate in a powerful, precision, compact, air powered bench press for production or laboratory use. With the Fabco Multi-Power® Air Press forces up to 11,000 pounds can be reached with shop air.
Features:
5" Bore with Strokes to 6"
1 thru 5 Stages Available
5 Open Widths of 5-1/2", 7", 9", 10" & 11"
4 Frame Plate Heights of 10", 14", 16" & 18"
High Strength Aluminum Frame Plates
Light Weight and Portable
Duralon® Rod Bearing for Longer Life
Prelubed with Magnalube-G® Grease
Chrome Plated Stainless Steel Piston Rods
Air Service to 150 PSI
Small Footprint Requires Less Mounting Space
Many Options to Choose From
Magnetic Piston Sensing Available
Literature

Multi Power Presses
Literature
Specification for Fabco Multi Power Presses utilizing several pistons for greater force in a small package. These pneumatic presses can be ordered as complete systems saving time and money.
[ Download ]
(494kb)