Hansen Straight Through Hydraulic Couplings by Hansen Couplings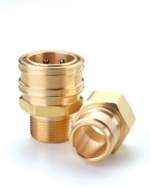 The Hansen Series ST straight-through couplings are designed for use where minimum
pressure drop is required and valving in the coupling is not needed. These Hansen quick disconnect couplings are well
suited for use on pressure wash, steam cleaning and carpet cleaning
equipment, and many fluid transfer systems. Body sizes range from 1/8" to 2-1/2".
Buy Hansen Straight Through Couplings On Line
Features:
Ball lock
Manual operation
Smooth bore permits free flow of liquid or gas.
Male and female NPTF, BSPP and hose stem connections
Options:
Sleeve Lock
Seals: Teflon (1-ST through 8-ST), Neoprene, Viton, Buna-N and EPDM
Standard Materials:
Brass or 303 stainless steel socket construction
Stainless steel springs, balls and retaining rings
Brass, zinc plated steel and 303 stainless steel plugs
High impulse heat treated 416 stainless steel plugs available in 1/4" and 3/8" body sizes
Buna-N (Nitrile) seals
Sockets:

| | | | | |
| --- | --- | --- | --- | --- |
| Part Number | Nominal Diameter | End Connection | Thread Detail | Notes |
| 1-S10 | 1/8" | Male Thread | 1/8-27 NPTF | Brass |
| LL1-S10 | 1/8" | Male Thread | 1/8-27 NPTF | Stainless |
| 1-S10BS | 1/8" | Male Thread | 1/8-28 BSPP | Brass |
| LL1-S10BS | 1/8" | Male Thread | 1/8-28 BSPP | Stainless |
| 2-S15 | 1/4" | Male Thread | 1/4-18 NPTF | Brass |
| LL2-S15 | 1/4" | Male Thread | 1/4-18 NPTF | Stainless |
| 2-S15BS | 1/4" | Male Thread | 1/4-19 BSPP | Brass |
| LL2-S15BS | 1/4" | Male Thread | 1/4-19 BSPP | Stainless |
| 3-S20 | 3/8" | Male Thread | 3/8-18 NPTF | Brass |
| LL3-S20 | 3/8" | Male Thread | 3/8-18 NPTF | Stainless |
| 3-S20BS | 3/8" | Male Thread | 3/8-19 BSPP | Brass |
| LL3-S20BS | 3/8" | Male Thread | 3/8-19 BSPP | Stainless |
| 4-S25 | 1/2" | Male Thread | 1/2-14 NPTF | Brass |
| LL4-S25 | 1/2" | Male Thread | 1/2-14 NPTF | Stainless |
| 4-S25BS | 1/2" | Male Thread | 1/2-14 BSPP | Brass |
| LL4-S25BS | 1/2" | Male Thread | 1/2-14 BSPP | Stainless |
| 6-S30 | 3/4" | Male Thread | 3/4-14 NPTF | Brass |
| LL6-S30 | 3/4" | Male Thread | 3/4-14 NPTF | Stainless |
| 6-S30BS | 3/4" | Male Thread | 3/4-14 BSPP | Brass |
| 8-S35 | 1" | Male Thread | 1-11 1/2 NPTF | Brass |
| 8-S35BS | 1" | Male Thread | 1-11 BSPP | Brass |
| 1-S11 | 1/8" | Female Thread | 1/8-27 NPTF | Brass |
| LL1-S11 | 1/8" | Female Thread | 1/8-27 NPTF | Stainless |
| 1-S11BS | 1/8" | Female Thread | 1/8-28 BSPP | Brass |
| LL1-S11BS | 1/8" | Female Thread | 1/8-28 BSPP | Stainless |
| 2-S16 | 1/4" | Female Thread | 1/4-18 NPTF | Brass |
| LL2-S16 | 1/4" | Female Thread | 1/4-18 NPTF | Stainless |
| 2-S16BS | 1/4" | Female Thread | 1/4-19 BSPP | Brass |
| LL2-S16BS | 1/4" | Female Thread | 1/4-19 BSPP | Stainless |
| 3-S21 | 3/8" | Female Thread | 3/8-18 NPTF | Brass |
| LL3-S21 | 3/8" | Female Thread | 3/8-18 NPTF | Stainless |
| 3-S21BS | 3/8" | Female Thread | 3/8-19 BSPP | Brass |
| LL3-S21BS | 3/8" | Female Thread | 3/8-19 BSPP | Stainless |
| 4-S26 | 1/2" | Female Thread | 1/2-14 NPTF | Brass |
| LL4-S26 | 1/2" | Female Thread | 1/2-14 NPTF | Stainless |
| 4-S26BS | 1/2" | Female Thread | 1/2-14 BSPP | Brass |
| LL4-S26BS | 1/2" | Female Thread | 1/2-14 BSPP | Stainless |
| 6-S31 | 3/4" | Female Thread | 3/4-14 NPTF | Brass |
| LL6-S31 | 3/4" | Female Thread | 3/4-14 NPTF | Stainless |
| 6-S31BS | 3/4" | Female Thread | 3/4-14 BSPP | Brass |
| LL6-S31BS | 3/4" | Female Thread | 3/4-14 BSPP | Stainless |
| 8-S36 | 1" | Female Thread | 1-11 1/2 NPTF | Brass |
| LL8-S36 | 1" | Female Thread | 1-11 1/2 NPTF | Stainless |
| 8-S36BS | 1" | Female Thread | 1-11 BSPP | Brass |
| LL8-S36BS | 1" | Female Thread | 1-11 BSPP | Stainless |
| 10-S41 | 1 1/4" | Female Thread | 1 1/4-11 1/2 NPTF | Brass; With sleeve |
| LL10-S41 | 1 1/4" | Female Thread | 1 1/4-11 1/2 NPTF | Stainless |
| 10-S41BS | 1 1/4" | Female Thread | 1 1/4-11 BSPP | Brass; With sleeve |
| 12-S46 | 1 1/2" | Female Thread | 1 1/2-11 1/2 NPTF | Brass; With sleeve |
| LL12-S46 | 1 1/2" | Female Thread | 1 1/2-11 1/2 NPTF | Stainless |
| 12-S46BS | 1 1/2" | Female Thread | 1 1/2-11 BSPP | Brass; With sleeve |
| LL12-S46BS | 1 1/2" | Female Thread | 1 1/2-11 BSPP | Stainless |
| 16-S51 | 2" | Female Thread | 2-11 1/2 NPTF | Brass; With sleeve |
| LL16-S51 | 2" | Female Thread | 2-11 1/2 NPTF | Stainless |
| 16-S51BS | 2" | Female Thread | 2-11 BSPP | Brass; With sleeve |
| LL16-S51BS | 2" | Female Thread | 2-11 BSPP | Stainless |
| 20-S56 | 2 1/2" | Female Thread | 2 1/2-8 NPTF | Brass; With sleeve |
| 1-S12 | 1/8" | Hose Stem | ID 3/16" | Brass |
| LL1-S12 | 1/8" | Hose Stem | ID 3/16" | Stainless |
| 1-S17 | 1/8" | Hose Stem | ID 1/4" | Brass |
| LL1-S18 | 1/8" | Hose Stem | ID 1/4" | Stainless |
| 2-S17 | 1/4" | Hose Stem | ID 1/4" | Brass |
| LL2-S18 | 1/4" | Hose Stem | ID 1/4" | Stainless |
| 3-S22 | 3/8" | Hose Stem | ID 3/8" | Brass |
| LL3-S23 | 3/8" | Hose Stem | ID 3/8" | Stainless |
| 4-S27 | 1/2" | Hose Stem | ID 1/2" | Brass |
| LL4-S28 | 1/2" | Hose Stem | ID 1/2" | Stainless |
| 6-S32 | 3/4" | Hose Stem | ID 3/4" | Brass |
| LL6-S33 | 3/4" | Hose Stem | ID 3/4" | Stainless |
| 8-S37 | 1" | Hose Stem | ID 1" | Brass |
| LL8-S38 | 1" | Hose Stem | ID 1" | Stainless |
Plugs:
| | | | |
| --- | --- | --- | --- |
| Part Number | End Connection | Thread Detail | Notes |
| B1-T10 | Male Thread | 1/8-27 NPTF | Brass |
| 1-T10 | Male Thread | 1/8-27 NPTF | Steel |
| LL1-T10 | Male Thread | 1/8-27 NPTF | Stainless |
| B1-T10BS | Male Thread | 1/8-28 BSPP | Brass |
| B1-T15 | Male Thread | 1/4-18 NPTF | Brass |
| 1-T15 | Male Thread | 1/4-18 NPTF | Steel |
| B2-T15 | Male Thread | 1/4-18 NPTF | Brass |
| 2-T15 | Male Thread | 1/4-18 NPTF | Steel |
| LL2-T15 | Male Thread | 1/4-18 NPTF | Stainless |
| HL2-T15 | Male Thread | 1/4-18 NPTF | High Impulse heat treated 416 stainless steel |
| B2-T15BS | Male Thread | 1/4-19 BSPP | Brass |
| 2-T15BS | Male Thread | 1/4-19 BSPP | Steel |
| LL2-T15BS | Male Thread | 1/4-19 BSPP | Stainless |
| B3-T20 | Male Thread | 3/8-18 NPTF | Brass |
| 3-T20 | Male Thread | 3/8-18 NPTF | Steel |
| LL3-T20 | Male Thread | 3/8-18 NPTF | Stainless |
| HL3-T20 | Male Thread | 3/8-18 NPTF | High Impulse heat treated 416 stainless steel |
| B3-T20BS | Male Thread | 3/8-19 BSPP | Brass |
| 3-T20BS | Male Thread | 3/8-19 BSPP | Steel |
| LL3-T20BS | Male Thread | 3/8-19 BSPP | Stainless |
| B4-T25 | Male Thread | 1/2-14 NPTF | Brass |
| 4-T25 | Male Thread | 1/2-14 NPTF | Steel |
| LL4-T25 | Male Thread | 1/2-14 NPTF | Stainless |
| B4-T25BS | Male Thread | 1/2-14 BSPP | Brass |
| 4-T25BS | Male Thread | 1/2-14 BSPP | Steel |
| LL4-T25BS | Male Thread | 1/2-14 BSPP | Stainless |
| B6-T30 | Male Thread | 3/4-14 NPTF | Brass |
| 6-T30 | Male Thread | 3/4-14 NPTF | Steel |
| LL6-T30 | Male Thread | 3/4-14 NPTF | Stainless |
Literature

Hansen Straight Through Coupling Catatog
Literature
Hansen Straight Through Coupling catalog. Straight Through couplings provide the highest flow characteristics
of any coupling since they do not contain internal shut off valves
[ Download ]
(155kb)