ControlNet by Fieldbus Communication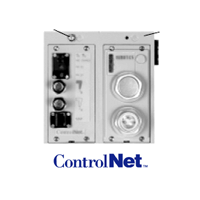 Why ControlNet?
From proprietary to public standard, the proliferation of industrial networks offers users various benefits, but unfortunately from different networks. Couple this with the flattening of architectures and demands for higher performance, and you can see there was a need for an automation and control network that combined the benefits of several networks onto one link for increased system performance. Also needed was a control network to reliably predict when data will be delivered and ensure transmission times are constant and unaffected by devices connecting to, or leaving, the network.
These realities drove the development of ControlNet ... a real-time, control-layer network providing for high-speed transport of both time-critical I/O data and messaging data, including upload/download of programming and configuration data and peer-to-peer messaging, on a single physical media link. Deterministic and repeatable, ControlNet's high-speed (5 Mbits/sec) control and data capabilities significantly enhance I/O performance and peer-to-peer communications.
Literature