EtherNet by Fieldbus Communication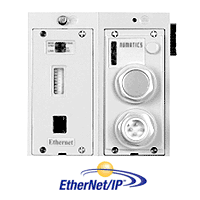 Ethernet/IP
Industrial application layer protocol for industrial automation applications
Ethernet/IP is an industrial application layer protocol for industrial automation applications. Built on the standard TCP/IP protocols, it utilizes long established Ethernet hardware and software to define an application layer protocol for configuring, accessing and controlling industrial automation devices. Ethernet/IP classifies Ethernet nodes as predefined device types with specific behaviors. The Ethernet/IP application layer protocol is based on the Control and Information Protocol (CIP) layer used in both DeviceNet™ and ControlNet™. Building on these protocols, Ethernet/IP provides a seam-less integrated system from the Industrial floor to the enterprise network.
Ethernet/IP technology
Ethernet/IP uses all of the protocols of traditional Ethernet including the Transport Control Protocol (TCP), the Internet Protocol (IP) and the media access and signaling technologies found in all Ethernet network interface cards (NICs). Building on standard Ethernet technologies means that Ethernet/IP will work transparently with all the standard Ethernet devices found today. Even more importantly, basing Ethernet/IP on a standard Ethernet technology platform ensures that as the technology evolves, Ethernet/IP will evolve with it.
Literature