ACS Drive / Controller by Tolomatic Axidyne Electric Motion Control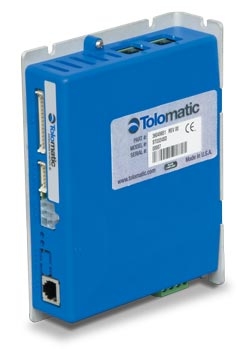 The ACS Stepper Drive/Controller for use with the low cost ERD rod-style electric actuator
The ACS is an extremely easy-to-use stepper drive & controller developed specifically to be used with electric actuators. Simply select the configured Tolomatic actuator in the software to automatically set-up most of the necessary parameters to create motion in the desired linear units (mm or inch).
Capabilities:

• 4, 8, or 16 move command modes (absolute, incremental or jog) for infinite position capability

• Adjustable motion profile parameters (velocity, accel/decel, force). Parameters are independently configurable for each move

• Ability to reduce holding current for energy savings

• End point correction

• Zone output based on position

• Force limiting capacity

• Configurable digital I/O (24 Vdc Opto-Isolated)(NPN or PNP)

• Compatible with most 24 Vdc stepper motors
---
CAPABILITIES

Coming Soon!
Operating Modes

• Stepper mode
(pulse/direction)

• Analog position mode
(0-10 Vdc or 4-20 mA)

• Pneumatic modes

Networking Capabilities

• Ethernet protocols
• Ethernet/IP
• Modbus TCP
• Ethernet TCP/IP

• Dual ethernet ports with internal switch for daisy chaining

• Modbus RTU over RS-485

• Ethernet/IP for integration with Allen Bradley PLCs

• Modbus TCP/RTU for integration with most other PLCs & HMIs
Files

Tolomatic ACS Controller Software
Software File
FREE Tolomatic ACS Controller Software. This easy to use PC based software will allow you to use your ERD actuator in just minutes. Tolomatic ERD software requires free Microsoft NET 4.0
[ Download ]
(6830kb)