VMSPX acuum Pumps and Vacuum Generators by Anver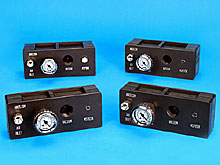 Revolutionary New Technology
These Compressed Air Powered Vacuum Pumps feature a Built-In Silencer for the Smallest Package on the market today. The vacuum pumps also feature an industry standard (P-Style) mounting for all sizes. All MSPX Vacuum Pumps feature three vacuum inlet ports from which to choose, another Industry First from ANVER Corporation.

These Improved Classic Style Vacuum Pumps offer High Flows at Moderate Vacuum with an absolute Minimum Space Requirement.