Air Pilot Poppet Valves by Numatics Air Valves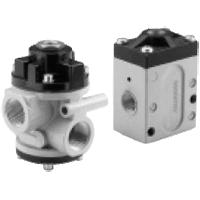 Numatics valves, For compressed air and vacuum, the Numatics poppet valves are ideal for single acting cylinders, air bellows, and vacuum material handling.
Effective May 1st, 2006. Our poppet valve part number structure has been revised to follow all our current valve model numbering systems. Please review the crossover and model number call out sheets below.

Please note:  June 2021.  Numatics has decided to disconinue the sale of this popular private label produst.  We are working with the manufacturer and hope to resume sale of this product soon.  Please check back again.
Specifications:
Cv: 0.5 to 24
Port Sizes: 1/8, 1/4, 3/8, 1/2, 3/4, 1, 1 1/2 inch
Flow Capacity: 23 to 407 SCFM @ 80 PSIG / 492 to 8667 NI/m @ 6 bar
Operating Pressure Range:
1/8" to 3/8" Ported: 24 to 145 PSIG / 1.7 to 10 bar
1/2" to 1" Ported: 32 to 145 PSIG / 2.2 to 10 bar
1 1/2" Ported: 36 to 145 PSIG / 2.5 to 10 bar
1/8" Ported: Minimum 58% of Operating Pressure
1/4" to 1 1/2" Ported: Minimum 67% of Operating Pressure
Temperature Range (Ambient): 23°F to +122°F / -5°C to +50°C
Features:
Air pilot actuated
3-way & 2-way design
Use with air or neutral gas
For lubricated or non-lubricated service
Cad drawings available
High flow
Rugged design
Bubble tight
Low cost
CSA and CE approved