Clean Act Cylinders by Compact Air Products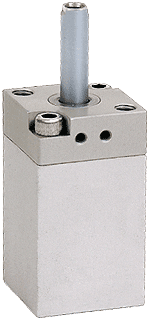 Compact Clean-Act™ cylinders are designed for a clean room evironment.
Features
Low Friction - non-filled thermoplastic polyester rod bushing
Addtional rod seals with four seating points
Vacuum port is tunneled between 2 multi-lobed seals
Benefits
Eliminates the possibility of petroleum based lubricants and bronze bushing particles from entering the environment, in the event of a rod seal failure.
Allows for vacuum switch line to be used to diagnose a failure of either the outer wiper seal, or inner pressure seal and will act as vacuum preventing any unwanted material from entering the environment.
Available in standard inch Bore size(s): 3/4" to 1-5/8" Bore