GRC Series Pneumatic Slide by Compact Air Products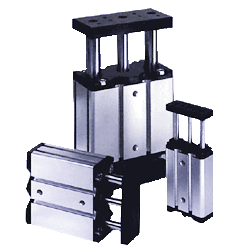 Compact Air Products guided cylinders combine high strength, lightweight extruded bodies and the rigid support of composite or roller ball bearings with enersorb piston to provide an unparalleled guided cylinder product.
Features:
 4 Base Models
 ½, 3/4, 1 ¼ and 2 ½ inch Bores
 Lift forces from 16-490 lbs.
 Precise repeatability
 Smooth operation
 High noise and energy absorption
 Extended cycle life and non-lube service
 Various custom options available.