Intelligent Vacuum Pumps by Coval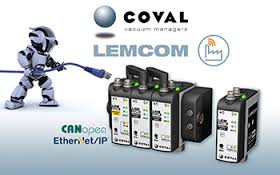 Manufacturer: Coval
The COVAL innovation intelligent vacuum pump series originates from Twintech technology. Twintech is an 'all in one' concept which for the first time integrates all the necessary components at the heart of the vacuum pump. Thus the user eliminates the need to order and assemble the individual components such as electro valves, pilots, vacuum switches, pressure regulators, filters etc. The modular aspect of the intelligent vacuum pumps also allows the user to choose only the functions needed for the application.
LEMCOM, first communicating vacuum pump on field bus. COVAL brings vacuum into Industry of the Future.
Future Industry
LEMCOM is the most successful demonstration of a vacuum pump's mechatronic design. It is designed to meet integrator as well as user expectations, in terms of flexibility, safety, productivity and energy savings.
LEMCOM installs very effective communication at distance between the operator and the vacuum pump. This communication makes it possible to receive information in real time, but above all to act at any moment to change settings, to ensure corrective and preventive maintenance of the vacuum pump.
Energy-saving technology
The LEMCOM affirms its continuity with the other COVAL intelligent vacuum pumps. It integrates the COVAL energy savings technologies, ASR (Air Saving Regulator) and ASC (Air Saving Control), making it possible to attain up to 90% energy savings.
The new communication functions, with its near and distant environment, enable the LEMCOM to go even further in terms of performance, simplicity and energy savings.