Linear Guide Units H01 by Linmot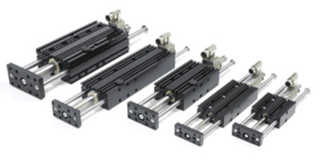 H and B Guided Actuators
Allows dynamic and precise positioning of loads
Available with either ball bearings or plain bushings
Resists effects of side loading
Supports cantilevered loads
Acts as anti-rotational device
Mechanically compatible with standard pneumatic guides
G Guided Actuators
Strokes up to 67"
(1700mm)
Recirculating ball bearing construction
Aluminum extruded profile
Hardened steel guide bars
Excellent for use in pick-and-place or gantry applications
When your application requires the use of a linear guide, LinMot offers several strategic options. Linear guides are commonly used as load bearings, to resist side loading and to support cantilevered loads. They are also used as an anti-rotation device. LinMot linear guides provide high-precision guidance and allow dynamic and precise positioning of loads. They are mechanically compatible with standard pneumatic guides, making them an ideal replacement for air cylinders when you need higher speeds, longer life and complete control during movement. The T-slot design of LinMot linear guides allows for easy additions, such as mechanical brakes and load balancing MagSprings for use in vertical applications.
LinMot linear guides are available with either linear ball bearings or sintered bronze bushings. Ball Bearing linear guides are recommended for standard applications under normal environmental conditions and ensure nearly frictionless operation. Linear guides with bronze bushings are recommended in dirty, damp, or wet environments and in highly dynamic applications with accelerations over 50m/sec.
Contact LinMot today to discuss your options including full movement control and precise load positioning while using a linear guide.