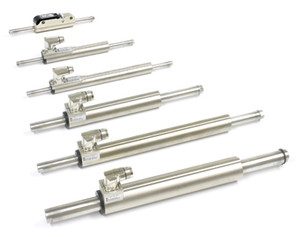 Direct drive – no belts, screws, cams or gears to wear out
High speed movements up to 20ft/sec and accelerations to 40g
Operating life to 2 billion cycles
Complete control on basis of force, speed, trajectory or position
Repeatability of .002"  (.05mm)
Peak motor forces to 230lb (1024N)
Strokes up to 72" (1830mm)
Operating temperature range of -40ºF to +140ºF (-40ºC to +60ºC)
Designed for use in rugged environments
Stainless Steel Linear Motors
Direct drive – no belts, screws, cams or gears to wear out
Available as either air or water cooled
AISI 316 and IP69K rated for food, pharmaceutical and packaging applications
Peak motor forces to 195lb (870N)
Complete control on basis of force, speed, trajectory or position
Designed for high pressure washdown using aggressive chemicals
LinMot linear motors are electromagnetic, direct drive devices consisting of two parts, a slider and a stator. Without the use of belts, screws, cams or gears, LinMot linear motors have an expected operating life of up to 2 billion cycles when properly applied. Now available in standard and stainless options, LinMot motors offer complete control on the basis of force, speed, trajectory and position. Standard LinMot linear motors have an operating range from -40° F to 140° F.
Stainless-steel LinMot motors are available in both air and water cooled configurations and are designed for high pressure wash down applications using aggressive chemicals. Stainless LinMot motors are AISI 316 and IP69K rated for use in food, pharmaceutical and packaging applications.
LinMot linear motors adjust to your specific motor design needs by providing linear motors with either space saving cables and connector assemblies or mounted rotatable connectors. For high speed, long life, fully controllable linear motors, contact us about LinMot today.