NFPA INTERCHANGEABLE AIR CYLINDERS by Airpro-Tayio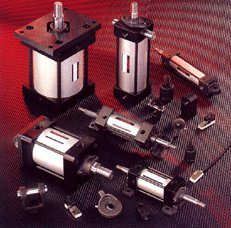 Designed to meet the needs of machine builders today, tomorrow, and beyond. Over fifty years of cylinder manufacturing experience has been built into this lightweight, but durable design.
FEATURES: BORE SIZES 1.5" UP TO 5" Available bores 1.5", 2", 2.5", 3.25", 4", 5" with various types of mountings and rod end accessories.
NON-ROTATING RODS AVAILABLE Hexagonal rods eliminate the need for whirl-stop guides. We have an entire series of non-rotating rod cylinders, which enable construction of more functional systems.
MAGNET INTEGRATED IN PISTON Pistons come equipped with a magnet, mounting a magnetic proximity switch will convert a basic cylinder into a position indicator without internal modification.
ADJUSTABLE CUSHIONS Cylinders come standard with adjustable cushions in both the head and cap.
Airpro also manufactures:
Tandem Cylinders
Dual Stroke Cylinders
Electroless Nickel Plated Cylinders
Adjustable Stroke Cylinders
Air-Oil Tanks
Multi Stage Cylinders
Volume Chambers