Numatics 2009 Series Air Valve by Numatics Air Valves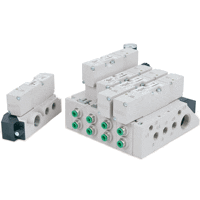 Numatics Solenoid pilot actuated valves. Plug-in base or manifold mount with optional plug-in tubing connections and terminal block for ease of wiring. Lightweight magnesium alloy valve body. Multipurpose 5-ported, 4-way, 2, and 3 positions. Lapped spool & sleeve assembly.
NOTE: This Valve's Series has been discontinued. Limited stock is available.
Cv: 0.9
Port Sizes: 1/8, 1/4 NPTF & G
Flow Capacity: 28 SCFM @ 80 PSIG / 591 NI/m @ 6 bar
Operating Pressure Range: 28" Hg. Vacuum to 150 PSIG / Vacuum to 10 bar
Pilot Pressure Range: 14.5 to 120 PSIG / 1 to 8.23 bar
Temperature Range (Ambient): -10°F to +115°F / -23°C to +46°C
Features:
Field bus Electronics and I/O Capable
Plug-in solenoid pilot provides fast response
Pilot light indicates when power is supplied to the solenoid
Valve unit to the base integral wiring plug
Flush non-locking manual override
Lightweight magnesium alloy valve body
Multipurpose - 5 ported, 4 way, 2, and 3 position
Time-proven lapped spool and sleeve assembly
Operates on lubricated or unlubricated service
Integral plug-in regulators are available
Integral plug-in speed control with adjustments on the same end
Plug-in manifold with terminal block for ease of wiring
Optional push-in tubing connections on subcases and manifolds
Valve body integral recessed gasket provides positive sealing
NEMA 4.

Numatics 2009 Valve Catalog
Numatics 2009 Series Valve Catalog
[ Download ] (3698kb)