Numatics AR Series Rotary Actuator by Numatics Actuators and Motion Control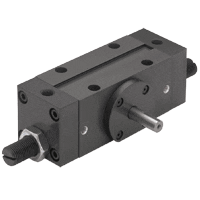 Manufacturer: Numatics Actuators and Motion Control
The torque rack on the Numatics AR Series produces the rotary output torque while the control rack determines rotary stroke. The output shaft is supported by two angular contact bearings. The NuMate™ mounting feature provides a convenient method of mounting the AR-Rotaries to the SH-Series linear slide.
Features:
Body: Hardcoat Anodized, lightweight, durable, Teflon® impregnated inside and out.
Output Shaft: Hardened electroless nickel, corrosion and wear resistance, angular Contact Bearings - two angular contact bearings better-supporting
Stroke Adjustment: C.W. and C.C.W. Adjustment over 185° total stroke, infinite adjustment in both directions of rotation, secured by jam nut
Sensor Mounting Channel: Machined into body, accepts Numatics dovetail switches (world switch), easy access, easy adjustment, magnetic piston is standard on all models.