Numatics B Series Pneumatic Slide by Numatics Actuators and Motion Control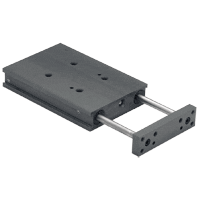 Manufacturer: Numatics Actuators and Motion Control

The B series design is compact and self-contained. Cylinder pistons are attached directly to each guide rod, conserving size without sacrificing output force. Guide rods are supported by specially designed guide bushings providing optimum support of dynamic loads. Guide bushings are manufactured from specially engineered materials designed to eliminate potential rod binding.
Features:
Body: Hardcoat anodized aluminum, teflon coated, integrated switch mounting.
Tooling Plate:Universal mounting pattern with standard dowel locating holes.
Guide Shafts: Hardened Steel, (stainless available), large diameters for increased load capability.
Bearings: Low friction, superior rod diameter to bearing length ratio.
Position Sensing: Easy access position sensor mounting.
Bore Size: 7/16", 5/8", 7/8".

Numatics B Series Pneumatic Slide Catalog
[ Download ] (1179kb)