Numatics CGT Series Pneumatic Slide by Numatics Actuators and Motion Control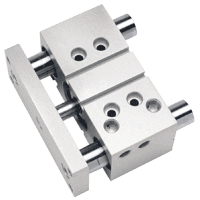 Manufacturer: Numatics Actuators and Motion Control
The CGT series compact guide slide is ideal where high load and force are required and minimum space is available. The piston and rod assembly being machined directly into the extruded body achieves space savings. The CGT series provides several options to mount both the slide assembly and tooling.
Features:
Body: Hardcoat Anodized, mulitiple mounting options, counterbored holes, tapped holes, extruded "T" slots.
Tooling Plate: Precision machined with easy access mounting holes for tooling attachments.
Rod Wipers: Steel reinforced wipers assure protection of bearings from enviroment contamination.
Bearings: Choice between recirculating ball for heavy duty applications and sintered bronze for medium to light duty applications.
Guide Shafts: Hardened ground and polished, oversize diameter for load support and rigidity
Piston: Internal to body, magnetic band for position sensing.
Sensor Mounting Track: Extruded into the body, no external brackets necessary, hall effect or reed switches
Bore Size: 16mm, 20mm, 25mm, 32mm, 40mm, 50mm.