Numatics GR Gripper by Numatics Actuators and Motion Control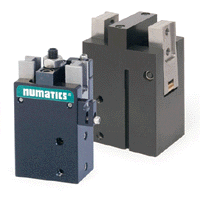 Manufacturer: Numatics Actuators and Motion Control
The Numatics GR-Series has a double acting piston attached to a cross bar by a connecting rod. The linear movement of the piston is transformed into angular movement of the jaws through a double toggle link mechanism.
Features:
Body is hardcoat anodized with Teflon® - Reduced friction, reduced wear.
Front and Side Ports standard.
Jaws are hardened alloy steel.
Keyway slot for tooling location.
180° of Jaw motion.
Locking adjustment screw standard on GR90. Jaw Rotations Adjustable 0 to 90° - Custom fit each application
GR1400 with up to 720 lbs of closing force.