Numatics LC Series by Numatics Actuators and Motion Control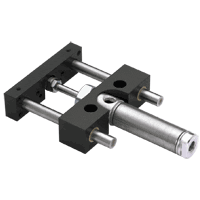 The LC Series provides guided linear motion at a lower cost. External cylinder is mounted rigidly to the cross body which drives the tool plate. The tool plate motion is guided by two hardened linear rods. The linear rods are supported by engineered polymer plastic bushings.
Features:
Body: Hardcoat Anodized Aluminum (6061-T6511).
Air Cylinder: Stainless steel body & rod (corrosion resistant).
Bore Sizes: 9/16" to 1-1/2" .
Alignmnet Coupler: 360 degrees of float, eliminates side-loading of the cylinder.
Tooling Plate: Universal mounting pattern with standard dowel locating holes.
Bushings: Low friction plastic polymer.

Numatics LC Series Slide Catalog
Literature
Numatics LC Series Pneumatic Slide
[ Download ] (1060kb)