Numatics PG Gripper by Numatics Actuators and Motion Control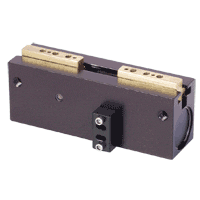 The Numatics PG Series is low profile with true parallel motion that is generated by a pinion mechanism powered by a double acting piston.
Features:
Body: Hardcoat Anodized, Teflon impregnated inside & out. 2 different strokes same size low profile body.
Jaws: Aluminum bronze alloy and T-Slot style to prevent jaw breakage and offers superior load bearing capabilities.
Sensing: Hall effect sensing is available to sense open & closed position.