Numatics PG6 Gripper by Numatics Actuators and Motion Control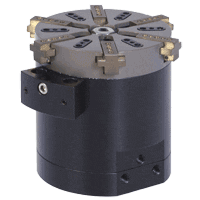 The Numatics PG6J80 Series 6 finger gripper design utilizes a dual acting piston to open and close gripper jaws. All six jaws are synchronized for accurate positioning. The included ejectors operate independent of the gripper jaws, providing a convenient method to strip parts from the jaws. An example of this could be, expanding an o-ring and pushing it on to the desired part.
Features:
Body: Hardcoat, anodized, Teflon impregnated aluminum, lightweight durable
Jaws: T-slot design for superior load bearing support, six jaws in synchronized parallel motion.
Ejectors: Independent motion from jaws. Single acting, air pressure to extend, spring return. All ejectors extend and retract together.
Stroke Adjustment: Easy access stroke adjustment screw provides precise controllability of jaw travel. Locking jam nut secures adjusted position.