Numatics PS Series Pneumatic Slide by Numatics Actuators and Motion Control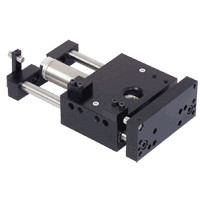 The PS series is a compact lightweight unit with a replaceable air cylinder. Floating piston rod coupling eliminates cylinder binding. Units are permanently lubricated for non-lube air operation, allowing for OSHA compliance. Aluminum body and end blocks contain tapped holes and dowel pin holes for precision mounting or fixturing. Standard end plate to stop shaft vibrations.  Features:
Body: Anodized aluminum for reduced weight with multiple mounting surfaces with dowel location holes. Compact size for added space savings
Air Cylinder: Standard stainless steel body and rod for corrosion resistance and permanently lubricated for non-lube service.
Alignment Coupler: Isolates piston rod from side loading, increasing service life.
Optional Shock Absorbers: Recommended for high cycle applications to absorb shock loading, and provides end of stroke adjustment.
Optional Proximity Switch Sensing: For applications requiring end of stroke verification, available for extend and retract positions.
Rear Tooling Plate: Dampens guide rod vibration for smooth operation, and houses shock absorber for extend position.
Bearings: Four recirculating linear ball bearing for maximum load capacity that are sealed from contamination. Self-aligning for maximum guide rod support.
Guide Rods: Hardened steel to Rc60-65, precision ground and polished.