Numatics SC Series Swing Clamp by Numatics Actuators and Motion Control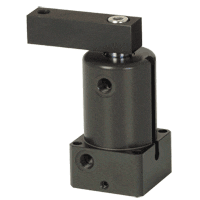 The Numatics SC Series Swing Clamps combine linear and rotary motions. A specially machined spline internal to the piston rod develops the combined motions. When the clamp is pressurized to extend, it moves linearly, removing the clamp tooling from the clamped surface as not to damage the clamped surface. After completing the linear travel, rotation occurs, swinging the clamp arm away from the work holding area. During clamping, the opposite motions occur.Features:
Body: Hard coat anodized aluminum, lightweight, durable Teflon impregnated, lubricated, maximizes seal life.
Rod Bushing: Large bearing area provides maximum rod support side load protected.
Piston Rod: Hardened electroless nickel plated corrosion-resistant, durable low wearing surface.
Clamp Arm: Taper mounted convenient arm adjustment, 360-degree adjustment.
Mounting Surface: Convenient location, precision machined to accept standard industrial fasteners. (Single Arm Only).