Numatics TJ Gripper by Numatics Actuators and Motion Control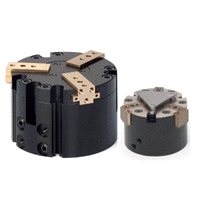 The Numatics TJ Series grippers provide high grip force in a compact design. Shielded design makes the TJ series ideal for machine loading and unloading. Compact design, to grip force ratios are ideal for confined work areas.Features:
Jaws are T-Slot bearing supported to prevent jaw breakage and offer superior load-bearing performance.
Flexible mounting, thru-hole for SHCS, tapped from the opposite side.
Dowel holes for locating.
Hard-coated aluminum body.
Sensing tracks for Hall-effect switches.
Optional stripper plate (TJ30 series).

Numatics TJ Gripper Catalog
Numatics TG Series Gripper
[ Download ] (1562kb)