Numatics WG Gripper by Numatics Actuators and Motion Control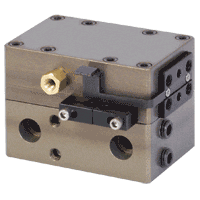 The Numatics WG Series, (double guided wedge parallel grippers), achieves synchronous motion with a double-acting piston attached via the piston shaft to a double-sided wedge. The double-sided angles of the wedge convert vertical motion to synchronous horizontal motion of the jaws. The Double Guided Wedge Parallel Grippers Unit can be slightly pressurized via the purge port to prevent debris or coolant from entering. Vacuum can also be applied.Features:
Body: Hard coat, anodized, Teflon impregnated aluminum, lightweight durable. Ultra-high gripping force to weight ratio.
Jaws: Jaws machined from S7 tool steel to prevent jaw breakage.
Switches: Proximity switches are available to monitor the open and closed positions of the jaws.
Side Ports: Additional side mounting holes and side airports for optional mounting and porting.
Lubrication: Units are permanently lubricated for non-lube air operation, this allowing for compliance with OSHA regulations.

Numatics WG Gripper Catalog
Numatics WG Series Gripper
[ Download ] (1562kb)