Pneumatic Ball Slides by Compact Air Products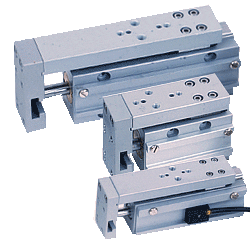 Compact BSC series cylinders are another variation of our versatile Compact air cylinders. All models feature our signature compact space efficiency. We have combined our cylinder with a high load bearing, factory matched recirculation ball slide rail set in two simple, low cost, designs ideal for precision industrial automation.
8mm and 12mm Bore
Cylinders feature our patented snap-cap design: a resilient retainer seal that aids in absorbing minor piston impact.
20mm Bore
Cylinders feature our patented stainless steel wire form end cap retainer