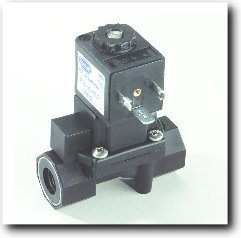 Manufacturer: Fabco-Air
The Series 3510 2-way, 2-position Solenoid valve uses the latest technologies for materials and function which provide the user with the highest quality, smallest size per Cv of flow and most competitive pricing of any valve on the market.
The 3510 utilizes the latest injection molding technologies available which make the 3510 compatable with many fluids and other media. When coupled with the solenoid operator and used as a direct acting/pilot operated valve, the 3510 gives full flow throughout the pressure range starting with an MOPD of zero psi. The polymer body section is available in 1/4, 3/8 & 1/2 NPT sizes and features a stainless steel anti-flex ring for port strength. The orifice for all sizes is 12.5mm or 1/2". The molded pilot section features a push non-locking manual override, high cycle life solenoid parts and quick connect DIN 43650 "A" electrical connection.
Typical applications include air control, inert gas control, potable water (NSF versions), condensate drainage, hot water plumbing and sprinkler systems.
Materials:
Valve Body - Glass Filled Nylon, Viton
Solenoid - Stainless Steel, Copper Wetted Parts