TIE ROD CYLINDERS by American Cylinders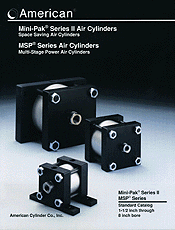 HARD CHROME-PLATED & POLISHED PISTON ROD: PSI minimum yield of 100,000. High tensile strength steel provides for reliable performance and longer rod seal life.
SOLID ANODIZED ALUMINUM ALLOY HEADS: Designed for corrosion resistance and extra strength.
ALUMINUM ALLOY TUBE 6063-T832: PSI of 35,000. Hard coated I.D. resists scoring and wear.
ALUMINUM ALLOY PISTON: Provides excellent characteristics against the hard coated I.D. cylinder body.
SEALS: Piston & rod seals are of Quad-Ring design to provide for low dynamic friction and positive sealing. O-Ring or U-Cup piston seals are available in 1-1/2" thru 5" bores. (6" & 8" bores are standard with U-Cup piston seals.)
CAST IRON ROD BUSHING: Compatible with the hard chrome plated rod. Close grain cast iron bearing provides maximum wear resistance for long life.
TIE RODS: High strength steel to maintain compression on tube end seals.
TUBE END SEALS: Fiber & nitrile base elastomer acting as a binder for positive sealing.
TEFLON BACK-UP WASHER: Wipes the rod clean and keeps out contamination.
MOUNTING: NFPA mounting styles.
DESIGN: Designed for applications requiring space saving configurations.