Tolomatic Double Purchase Cable Cylinders by Tolomatic Pneumatic Rodless Products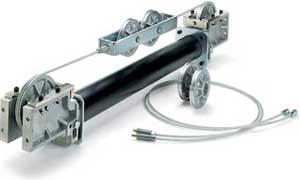 Manufacturer: Tolomatic Pneumatic Rodless Products
Tolomatic double purchase cable cylinders double the velocity and stroke capacity of double acting cable cylinders without increasing space requirements. They can be placed away from hostile environments for added application flexibility.
Bore sizes in 1.5, 2, 2.5, 3, and  4 inches
Double velocity and stroke of double acting models
Strokes up to 120 feet
Adjustable cushions are standard on 1.5 - 4 inch bore sizes
Fixed-orifice cushions standard on 1 inch bore sizes
Optional automatic cable tensioners with one or two inch stroke units
Optional Viton® seals for optimal performance and longer life.