Tolomatic MX Series Rodless Band Cylinders by Tolomatic Pneumatic Rodless Products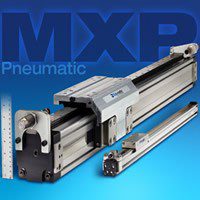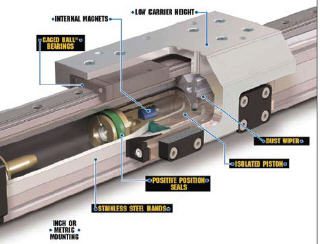 Tol-O-Matic ENDURANCE TECHNOLOGY features, the MX band cylinder sets a new standard for durability.
Durable bearings: Profiled rail design uses THK® Caged Ball® technology to reduce friction and extend actuator life. Solid bearing design reduces stress concentration by 59% for optimum performance. Internal bearing design is permanently lubricated for long trouble-free service.
Durable Bands: Strong stainless steel bands will not expand like elastomer (non-metallic) bands, providing reliable sealing over the life of the actuator
N - INTERNAL BEARING
Low cost solution for applications with limited load and bending moment requirements
Lowest breakaway pressure
Best in many vertical applications
Permanently lubed internal bearing
S - SOLID BEARING
Increased Mx moment capacity
Large bearing surface contact area minimizes pressure on bearing surfaces for long service life
Large carrier mounting pattern for more load stability and compatibility with existing BC2 applications
Engineered bearing material does not require additional lubrication
Solid bearings are field replaceable
P - PROFILED RAIL
THK® Caged Ball® bearings with reduced friction for reliable long life
High load and bending moment capacities
Low profile to fit your application
High precision bearings feature smooth, low breakaway motion


10 Most Common Mistakes when Sizing Rodless Cylinders
Literature
These are the common and expensive design traps to avoid when choosing a rodless cylinder for your application.  A must read for the designer.
[ Download ] (2563kb)