Tolomatic SW Actuator by Tolomatic Axidyne Electric Motion Control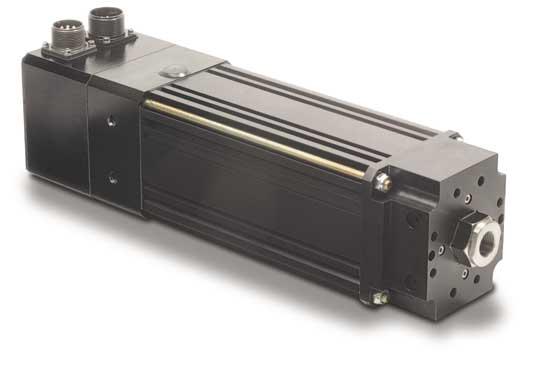 ZERO-MAINTENANCE, Factory lubricated for entire cylce life
INTEGRATED ACTUATOR/MOTOR/FEEDBACK For optimized unit length, force, speed and performance
NO WATER OR FORCED COOLING REQUIRED for most weld schedules
3-PHASE, BRUSHLESS SERVO MOTOR WITH SKEWED WINDINGS, for reduced cogging
ROTATABLE MS STYLE ELECTRICAL CONNECTORS AND REAR HOUSING for orientation within any gun or robot connectors
COMPACT PACKAGE fits most pneumatic cylinder footprints

TOL-O-MATIC has announced the SW Series Servo Welding Actuator—a patented new design that offers compact design, significantly extended service life and zero maintenance. Available in high performance roller screw or a ball screw models, the SW Series actuator features rated life at weld force exceeding 10 million cycles for the roller screw and 5 million for the ball screw when side loading is within specification. In many applications, service life can exceed these levels.
The SW Series Actuators incorporate an 8-pole Nd-Fe-B hollow core rotor with skewed stator laminations that provides low cogging torque. This design results in superior force repeatability of ±3.0% over millions of weld cycles, with actual field results to ±1.5%, independent of position. The design also results in greatly improved weld quality, offering weld force up to 2,500 pounds (11.12kN) and peak force of 4,400 pounds (19.57kN).
"Joining TOL-O-MATIC's successful HT Series Actuators, our new SW Series represents a technology leap in electric servo actuators," explained Dan Cass, Business Development Manager –Servo Actuators. "Electric servo welding in both robotic and fixture applications is rapidly replacing pneumatically-operated spot welding. The SW and HT servo's capabilites for 'soft-touch' welding and fully programmable weld gun operation offer improved weld quality, fast cycle times, and reduced weld expulsion." Servo welding also offers environmental advantages with reduced compressed air leakage, abated noise and less exhaust contamination, noted Dan Cass.
The SW Actuator's integral anti-rotation feature reduces weld gun costs and envelope dimensions. The compact design, built on a 4.4" face (111.76 mm) and weighing 31 pounds (14.06 kilograms), is ideal for robotic, fixture and hand-gun welding, as well as pneumatic cylinder retrofitting. With a standard 6" stroke (152.4 mm), the OAL of the SW is less than 15" (381 mm), not including any feedback device. SW is available in low (325 Vdc) and high voltage (680 Vdc) models.
Designed for zero maintenance during the length of its service life, the SW Actuator is lubed and sealed. It requires no water or forced cooling, and features manual override and bumpers for hard-over situations with no special tools needed. Users of the SW Servo Actuator may choose to operate the device through the 7th axis in a robot or with a weld controller. For easy system integration, the TOL-O-MATIC SW Actuator supports feedback options and interfaces with all major robot and weld controller suppliers. In addition, the company offers a WeldAxis™ controller that supports the use of the SW servo and incorporates a controller + PLC + drive for optimum force and repeatability control.