Tolomatic Track Cable Cylinders by Tolomatic Pneumatic Rodless Products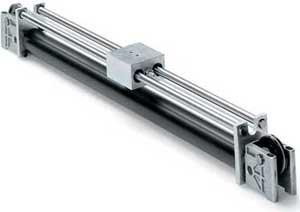 Manufacturer: Tolomatic Pneumatic Rodless Products
Tolomatic track cable cylinders provide a pre-packaged, pre-engineered guide and support system for greater bearing surface and larger load capacities. Track cable cylinders are available with optional auto tensioners and caliper disc brake combinations.
For bore sizes: 0.5", 0.75", 1" and 1.5"
Built-in guide and support system for larger loads
Aluminum bearing block guides and supports loads
Hardened ground steel shafts for durable performance.