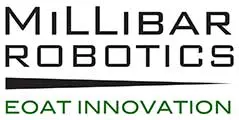 Millibar Robotic Tool Changers and Vacuum Products
Millibar – A Step Ahead
Imagine the very best minds in the vacuum industry applied to your industrial challenges.
Imagine the confidence and peace of mind that comes with a high integrity vacuum solution knowing that the best engineering design approach, the best technology and the best integration of today's leading vendors have been brought to bear.
Imagine a completely new model that changes the way you think about how your suppliers bring value to your industrial processes.
A Bold Approach
In an industry where myriad vacuum technology challenges and solutions abound, Millibar, Inc. brings a new level of customer support to the industrial vacuum market. On a mission to bring innovative vacuum solutions to an ever expanding universe of applications, and backed by a unique guarantee of performance, Millibar is keenly focused on delivering best in class, intelligent answers to today's industrial vacuum challenges.
Millibar is committed to ensuring that your industrial vacuum solutions meet or exceed your design, efficiency and price/performance goals. Millibar and Air-Oil will focus on integrating the parts, bringing them together as a whole, to meet your needs with a solution you can trust.
Intelligence. Innovation. Integrity.
Legacy designs incorporating yesterday's technology cost a fortune in maintenance time, delivering less than stellar performance, and cause energy costs to soar. Where most manufacturers and distributors leave the solution to the end user, we offer a bold new approach. Millibar and Air-Oil  goes further in the design process, staying with you every step of the way.