Robo Cylinders by IAI Intelligent Actuator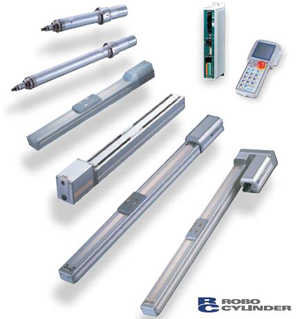 Robo Cylinders
The Robo Cylinder ® is a flexible, intelligent, and economical, ballscrew linear actuator from Intelligent Actuator. The Robo Cylinder ® offers:
Multiple Positioning
±.02mm Repeatability
Programmable Velocity Control
Programmable Acceleration & Deceleration
Programmable Torque Control (Push Function)
50mm to 1000mm Stroke Lengths
1mm/s to 1000mm/s Speed (Depends on Model)
Serial I/O for linking up to 16 axes
Long life expectancy (5,000km)
Low Power Consumption (Compared to Air Cylinder Compressors)
A One-Year Warranty
Prices start as low as $560
Economical and easy to use, the Robo Cylinder® is specifically designed to accomplish the simple tasks usually assigned to air cylinders, but with greater flexibility and control.

Offering custom control over position, speed, acceleration, deceleration, and torque, allowing for mid-move velocity changes, and control from a PLC, the Robo Cylinder® is a versatile and easy-to-use alternative to pneumatic cylinders.

Robo Cylinders are available in a wide variety of configurations to suit the requirements of your specific application. The main variations are found in the basic body construction and the type of motor employed.

The new and improved RCP2 & ERC utilize a hybrid stepper motor ideal for low-speed, high-thrust applications. For constant thrust across a wider range of speed, RCS actuators, which employ AC servo motors, are ideal. Both the RCP and RCS series of linear positioning actuators are available in an extensive array of rod, slider, and flat type configurations, accommodating a wide variety of application requirements.

The RCP and RCS actuators have different characteristics. The RCP actuators have higher payload capabilities at lower velocities. As the payload increases the RCP actuator will start decreasing in velocity according to its pulse motor torque curve. The RCS actuators will maintain a constant velocity throughout it's payload rating. Once the payload rating has been exceeded the AC servo motor will cause the controller to fault out.

Depending on ballscrew lead, all Robo Cylinder® actuators are available in high-, medium- and low-speed models. The Slider type is capable of speeds up to 1000mm per second, and the Rod type up to 800mm per second.

Robo Cylinders are typically used in single axis applications for simple point to point positioning. They may also be integrated into multiple axis Cartesian positioning systems from Intelligent Actuator.
Files

Video Presentation, 7 Benefits of the IAI Robocylinder
Software File
7 Benefits of the IAI Robocylinder are explained in this video.
[ Download ]
(21948kb)