Epson T6 Robot by Epson SCARA Robots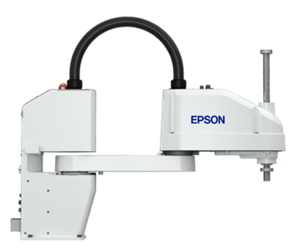 Value without compromise. The ultimate slide alternative.
An innovative alternative to complex, slide-based systems, the improved T6-B All-in-One SCARA Robot installs in minutes and easily integrates into existing workflows, helping users save time and money. Designed to seamlessly fit in a variety of workspaces, this all-in-one solution features a built-in controller, power for end-of-arm tooling and 110 V or 220 V power—virtually eliminating any space-constraint issues. Plus, it offers a 600 mm reach and a payload of up to 6 kg to easily handle a variety of tasks.
The perfect choice for automation experts and novices alike, the T6-B makes it easy to create an array of solutions with two powerful development environments, Epson RC+® and Epson RC+ Express. Ideal for virtually any application, Epson RC+ redefines automation efficiency by offering a comprehensive suite of advanced tools and features in one convenient, integrated environment. Alternatively, all-new Epson RC+ Express helps coding newcomers get up and running quickly with an intuitive, no-code, visual-based robot teaching environment that easily handles simple applications.
Offering powerful features at an incredible value, the T6-B All-in-One SCARA Robot is an extraordinary value-without-compromise automation solution.